Okay, here's my Christmas update, finally. We started off the day with partly cloudy skies here in the Atlanta outskirts. It was a fine chilly day when we stepped out back to put the turkey in the smoker.
We didn't do much that day but watch movies and the turkey as it smoked. About 8 hours later, we got to eat. Good thing we'd put that turkey on by 10am! The dinner menu was very simple this year:

Smoked Turkey with Giblet gravy
Cornbread Dressing (EWWW- DRESSING IS EVIL! : see Alton Brown for explaination)
*Brussel Sprouts with Chestnuts, Pancetta and Parsley (minus the sans Parsley)
Stuffed Eggs
Baked Sweet Potato (for hubby)
Wine and More Wine and perhaps just one more glass of Wine *okay, so it was spread out over most of the day AND we still had some in the bottle after dinner!
Pumpkin Pie and Christmas cookies

It was delicious. You should have been here to share it with us. WHERE WERE YA'LL?? Well, anyway, we ate your share and you enjoyed it very much. DO come visit anytime!

The week leading up to Christmas, I was watching Nigella Lawson's show and she did a recipe for brussel sprouts. We LOVE them and I'd planned on having them for our C'mas dinner. Hubby happened to come in the room at that time and watched the show with me!! He thought the recipe sounded wonderful and I agreed so decided to try it. I printed off the recipe from here: * http://www.foodnetwork.com/recipes/nigella-lawson/brussels-sprouts-with-chestnuts-pancetta-and-parsley-recipe/index.html It was fabulous! I'd never worked with the pancetta or chestnuts and almost never use wine for cooking but this recipe had so much flavor and goodness- we thought we'd died and gone on to Heaven! If you like B. sprouts this recipe is more than worth a try. I am now planning on making it more often BUT I'll trade out the chestnuts for a differnt kind of nut: next try out, I'll probably experiment with walnuts. But do give this a try if you're feeling adventurous. Oh and I used a Cabernet Sav. for the wine instead of the Marsala that she calls for b'cause I couldn't find it in the store and I already had the CS in the wine rack.


Anyway, here's a pic of the: Chestnuts roasting........ I'd never tasted them before so, obviously I'd never roasted them either. It was really quite simple and they came out of their shells so easily. I did decide, however, that I really don't like them. The taste wasn't my cup of tea so to speak.



When daughter 2 was here with her fiance' : remember, I mentioned they were coming in the last post, she brought with her all manner of "Good Eats" that I have now probably gained another 5 lbs. tasting. The apple tart she made was to die for and the crust was as light and fluffy as any professional baker could ask for, the banana bread was heaven and I don't necessairly even like banana bread but the best part of it was the sugar free/Splenda cookies she made for hubby! Even I, with my taste buds, couldn't tell they were Splenda cookies. They were fabulous and I need to get her recipes. There was no after taste, no dryness or floury/cakeiness to contend with; just light, sweet goodness. Thanks Babe, they were all wonderful.

Look at this georgous (sp?) scarf that my daughter 2 knitted with her own two little hands! I absolutely LOVE it. It's really warm and I love the pattern stitch. I think she said it was Feather and Fan or some such thing. I can't believe that she'd actually take the time to do it just for meeee. I think she did an AWSOME job. The color in the pixie just doesn't really do it justice. It's a LOT more vivid than this show. Oh, and don't ask about the top of another pic at the bottom, I don't know what was up with that!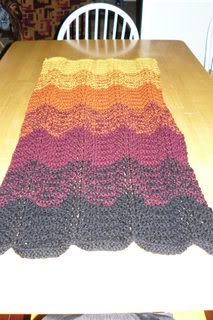 Yep, Ole Santa really knew that I'd wanted these charts forever, so he finally put them under the tree. I've already started the Autumn Leaves and kitted up the Summer Breeze. The fishing Santa I'll get done for hubby later this year to put on the tree for him. I was excited to FINALLY get these. I'm hoping by my birthday that maybe I'll get the spring and winter ones to go with. I also got the DMC threads that I needed to finish off these charts and the fabric - Aida of course- I just didn't take pics of those.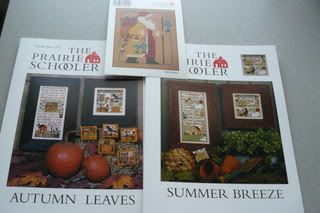 Last but not least of the crafty stuff, I got some fabric for a new apron I've been wanting and needing to make. I have ruined more clothes than I can spare- so it was time. The two contrasting fabs are for the apron and the red trim is for another Christmas apron I'm planning on making for this year's end (which I also got the fabric for that at a year end sale but forgot to take a pic of it). It's a green background with candy canes all over it.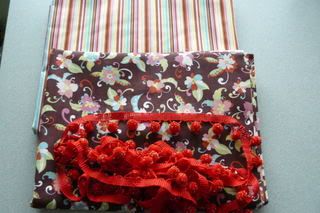 Hubby got me that new house coat I'd asked for. It's really fluffy/fuzzy and very warm. He also got me 2 new Portugeuse flannel shirts, a sweater and a 3 fold set of peach colored cultured pearls: I'll post a pic of those later. It was a bracelet, earrings and a long necklace that he'd bought a gold clasp for so that I can wear it in many styles and ways. It's a beautiful set. I suppose this is the time to say that our anniversary is the day after Christmas, so sometimes, I get surprised with a bit more goodies.
Last but not least, I just wanted to tell ya'll what a wonderful guy Walker is. I am so glad that he was able to make it here with daughter 2. He is cute, funny and seems to be very well suited to her. He's a go-getter and a hard worker. He has hopes/dreams and it is very apparent that nothing will get in his way of fulfilling his dreams. He will be a dear man/husband to daughter and will provide well for her in all her future needs: attention, love, kindness...you know, the things that really matter. He will really and truely love her, even when she really just needs that kick in the pants. I'm so glad she found a man like that - I got one of those and I'm here to tell you, IT IS SUCH A BLESSING .
So, to you DEAR daughter and future son in law; I leave you with this poem:
Z and W sitting in a tree,
K I S S I N G
First comes love
Then comes marriage
Then comes somebody else with a baby carriage.
My love to you both, Dear Hearts
Oh and next post will be my Sweet Potato Rolls recipe. Someone had asked for that so....... I need to pull it out again and get that posted next. Later.