Okay, since the Spanish Sampler is getting ready to come out with part 5 in the next few days; I am frantically trying to get caught up on it. Remember, this is the one that came on vacation with me to the beach this year and sat in the corner of the bedroom while I was down on the beach or by the pool doing absloutely nothing! So, I remembered about 3-4 weeks ago that I needed to pull it out and get back to stitching. I had just forgotten how much I still needed to do on it!! I had part 1 done and part 2 almost done. So, I have, since mid October finished parts 2,and the two 3's. Part 4 is looking like it's suppose to but I don't think I'm going to get it finished in time for p.5! That means I'll be behind again cause I won't be able to start that part. Anywho, here's a quick pic....
Spanish Sampler parts: 1, 2, 3a/b, and 4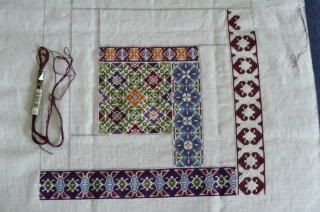 I'm also fighting with photobucket lately. It is uploading my photos as HUGE and it won't let me resize them..... any ideas about what's going on---anyone??