Thanksgiving is almost here and I can't wait to smell that turkey roasting! I love it when the house (whoever's it is) has all those delicious smells from roasting, baking, boiling, mixing..... I don't cook like that anymore and can now really look forward to those wonderous smells when someone else does it. We are going to my sister's in MS this year. Hubby and I haven't been back there together since Mom died. So, it's time. He really enjoys his bil and I have such fun and long deep spiritual talks with my sissy#3. AND we laugh and carry on and have a great time. So we are looking forward to getting away to see them.
I've been trying to catch up on a few things lately. Since I found my stitched ornaments, I spent the weekend finishing them up. This first pic is of the last two I did. The penguin is for granddaughter 1. She wanted it done in blue! So she will now have one chilly bird!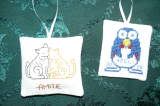 This one is for daughter #2. She has two cats that look just like this. Aren't they sweet?! See her blogs here:
http://fathippycrafts.wordpress.com/
and here:
http://mostlyadventurous.blogspot.com/
but don't tell her I updated my blog cause she hasn't seen this yet. I probably won't send it on it's way until this weekend. I found the chart here:
http://kikengrogne.over-blog.com/
. It was a French site. I LOVE french needlework. They are truely the masters of stitchery imho. Anyhow, I wrote: Felix and Fuffy on the back with the date and added some cute little cat paws. I think it's adorable- so there!
These next shots are just the finished ones all together. Oh and in case your superstitious, I do have one more penquin that I didn't get finished up yet. So, I really did do 14 instead of 13.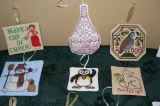 All together...
This is Brook's crochet Santa purse. So cute. Took me about 2 days to make cause I had to wait for $change$ to go get more white yarn. (worked in regular ole ww- still using stash- well, except for the white!)

Once the ole finger got better from the "cut", I have also made me a super thick ear warmer for camping, a scarflette for Azel, finished lining daughter #1's FFB/added handles and have knitted one more "stinkin" dishcloth! (Man those things are hard to stop doing!) I'll have to add pixies of all these items later. I didn't upload them yet.
As you can see, I've been busy lately. Our visit from good friends K&J fell through (sob, sniffle) so I had to find other things to occupy myself with. (KIM- YOU FELLING GUILTY YET!! Grandkids b-day's are no excuse to cancel comin up here!) I'm just joshin' ya- you know that.
Christmas is right around the corner now and even though I'm not doing much this year, I still have two knitted scarves to finish (remember, I'm a beginner and knit really really SLOOOW) and a few crochet hats and gloves to make. At least I'm not crazy like some people and fret like mad cause "they haven't got things done and here it is the 11th hour!" I'll get it done or not. The cold won't show up too much down in FL before Febuary. So, if it's late, that's okay.
Well, 'nough for now. Later.

-----------------------------------
'Kay- just rechecked this post and I am now absolutely sure that I HATE this new stuff on photobucket that won't do my pixies right! You can't even enlarge them anymore! What's the deal!!!?
Sorry ya'll can't get a good close look at them. The "Amitie" ornie is really cute!